Road to Change – How 3 States Achieved Right to Counsel for Children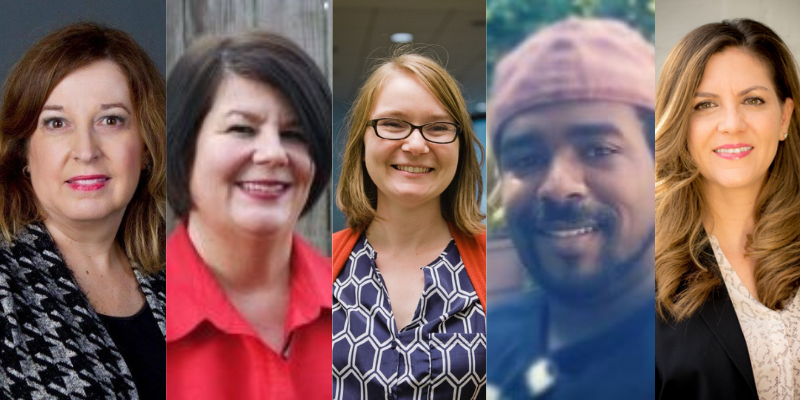 November 3, 2021
3:00pm-4:30pm EST
Join us to hear three separate accounts of the journey to right to counsel policy reform at the state level.  
Policy advocates from Arkansas, Washington, and Arizona will share the challenges faced and the strategies most effective in garnering support for legislation guaranteeing right to counsel for children and youth in their state. 
Presenters:
Janet L. Bledsoe is the Assistant Director of the Dependency-Neglect Attorney ad Litem Program in Arkansas.  Before being named Assistant Director, she was one of the first full-time attorneys employed by the Attorney ad Litem Program in Arkansas where she represented children in all aspects of Dependency-Neglect cases.  Janet is committed to high-quality legal representation for children and families involved in the court system and has presented nationally at conferences for both the National Association of Counsel for Children (NACC) and the ABA Center for Children and Families. Janet's work experience prior to the Dependency-Neglect Attorney ad Litem Program includes both the private practice of law from and serving as a field attorney for the Arkansas Department of Human Services, Office of Chief Counsel.  Janet earned an LL.M. from Loyola University Chicago, a J.D. from the University of Arkansas, Fayetteville, and a Bachelor of Arts in English from the University of Alabama.  Janet currently serves on the Board of Directors of the National Association of Counsel for Children. 
Connie Hickman Tanner, JD has 30 years of experience working with courts and stakeholders. She began her legal career with the Federal District Court, Office of Desegregation Monitoring, working with a team to monitor compliance of the Pulaski County Desegregation Settlement Agreement. She then joined the Arkansas Supreme Court Administrative Office of the Courts (AOC), where she worked for 24 years, first as a Staff Attorney, then Director of Juvenile Court Service, and finally as Court Services Director.  At the AOC she supervised the Judicial Education Division that provided ongoing continuing legal education for all appellate, circuit and district judges, Public Education and Community Outreach and Domestic Violence Programs. She also supervised all Juvenile Court Programs, including the Court Improvement Program (CIP) State Court Appointed Special Advocates (CASAs) Program, Dependency-Neglect Attorney Ad Litem Program, and Parent Counsel Program. Hickman Tanner served with a team of talented professionals and judges at the National Council of Juvenile and Family Court Judges as Chief Program Officer for Child Welfare and Juvenile Law and then as the Chief Program Officer of Child Welfare, Juvenile Law, Domestic Violence, and Domestic Relations. 
Liz Trautman (she/her) is the Director of Public Policy and Advocacy at The Mockingbird Society, a nonprofit organization based in Washington State that works to transform foster care and end youth homelessness. She has previous experience in youth and young adult homelessness policy, advocacy, and communications. She served in the Peace Corps, and holds a BS from Georgetown University and an MPA from the University of Washington. In addition to her work at Mockingbird, she is the board chair of the Washington Low Income Housing Alliance, a state-wide organization leading the movement for safe, healthy, affordable homes.  In her free time, she likes to spend time with her family, do crossword puzzles, and make jam.  
Samuel Martin is the CEO and Head Lobbyist of S.D. Martin Consulting which works with government administrations, corporations, and non-profit organizations to develop legislation and policies to positively impact the lives of the community. He has also done legislative agenda setting and advocacy with organizations like Casey Family Programs, Foster Club, the Congressional Coalition on Adoption institute (CCAI), and Foster Care Alumni of America (FCAA). Samuel is also an experienced lobbyist, trainer, and public speaker, having been a featured speaker and facilitator for several organizations like, Treehouse, Community for Youth, and City Year. With a combined 15 years of community engagement experience, Samuel engages a wide variety of audiences with positive intent and impact. Moreover, Samuel is also an established academic. He has obtained a bachelor's degree in Political Science from the University of Washington – Seattle Campus. He also obtained his Master's in Public Administration at Seattle University.
Meghaen Dell'Artino is the Vice President of Government Affairs for Gen Justice, bringing over 20 years of award-winning lobbying experience to the mission of creating stronger laws and policies for abused and abandoned children. Adept in all aspects of the political process, Meghaen is frequently recognized as one of Arizona's top lobbyists. Recently named to the inaugural class of Arizona's Women Achievers, her work and expertise have also been highlighted by The Arizona Republic, Arizona Capitol Times, and the Phoenix Business Journal. Meghaen has successfully championed the passage of numerous bills for child victims, including the appointment of lawyers for foster children in their court cases, expanding the timeframe for sexual abuse victims to seek justice, and ensuring that law enforcement have the necessary tools to search and rescue children missing from state care.